News
2022 New Year's Day Levee
Details

Published: Wednesday, 01 December 2021
The Village is planning to once again be hosting their New Year's Day Levee at H. Douglas Boyce Village Hall, 69 Pictou Road, on Saturday, January 1, from 12 pm to 2 pm.
Pre-registration by December 20.
This year, we will have three thirty-minute sittings available. Sitting times are:
• 12pm to 12:30pm;
• 12:45pm to 1:15pm; and
• 1:30pm to 2pm.
This is a great opportunity for residents to meet and chat with your Village Commissioners and fellow residents.
A light lunch and refreshments will be provided (menu below).
Masks and proof of full vaccination required.
Levee Menu
Homemade Chili
Vegetable soup – gluten-free option
Gluten-free biscuits
3 different varieties of sweets- nut-free, gluten-free and egg-free options

Brownies, donut holes, and cookies

Coffee & tea
Punch
Bible Hill Recreation Park Closed
Details

Published: Monday, 22 November 2021
Bible Hill Recreation Park, at 38 Guest Drive, will be closed temporarily beginning Thursday, November 25, through to the following week for purposes of construction.
Please respect barricades during this timeframe for your safety.
Celebrate the Holidays with Village of Bible Hill
Details

Published: Thursday, 18 November 2021
Celebrate the holiday season with Village of Bible!
Be sure to register for our upcoming festive events!
Action on the Hill - Christmas 2021 Edition
Details

Published: Thursday, 18 November 2021
Take a look at our Christmas 2021 Edition of Action on the Hill! Printed copies are available at the Village Office.
Volunteers Needed for No-Charge Sewer Lateral Video Inspection
Details

Published: Thursday, 18 November 2021
In the spring of 2021, Village of Bible Hill completed a Sanitary Sewer Study which found that there are many sanitary laterals that serve residences and business which were originally fabricated of Tar and Paper materials which formed a "No-Corrode" pipe. These laterals were installed between 1957 and 1962.
To maintain continued service to the residents and businesses, the Village has initiated an engineering assessment of No-Corrode laterals, which will consider a random selection of laterals (approximately 40) across the study area to determine their existing condition. The intent is to video each selected lateral with CCTV camera technology. Once videoed, the information will be evaluated to
determine the current conditions of the laterals.
It is anticipated that video access to laterals will be from residences and businesses where cleanout ports or wyes to the sanitary lateral are readily accessible. The Village would like to undertake the lateral inspections through the winter of 2021/2022. This information will ultimately lead to a capital plan which identifies where and when intervention is required to repair or replace components of existing lateral services.
The target area of work is mainly on Pictou Road, Main Street, and College Road, with consideration on side streets including: Farnham Rd, Windsor Ave, Albert Ave, Lloyd Ct, Ryland Ave, Avon St, Riverside Ave, Vimy Rd, Hillcrest Ave,
Blanchard Ave, Hillside Ave, MacIntosh Ave, Bigney Ave, Wright Ave, Johnson Ave, Dunromin Ave, East Court Rd, Armstrong Ave, and Edward Ave.
The Village is looking for volunteer home or business owners to assist in this initiative. Volunteers will benefit from understanding sewer lateral conditions on their private property. If you have interest and you know that your sanitary lateral is accessible, please contact the Village of Bible Hill office.
Safe Halloween 2021
Details

Published: Tuesday, 12 October 2021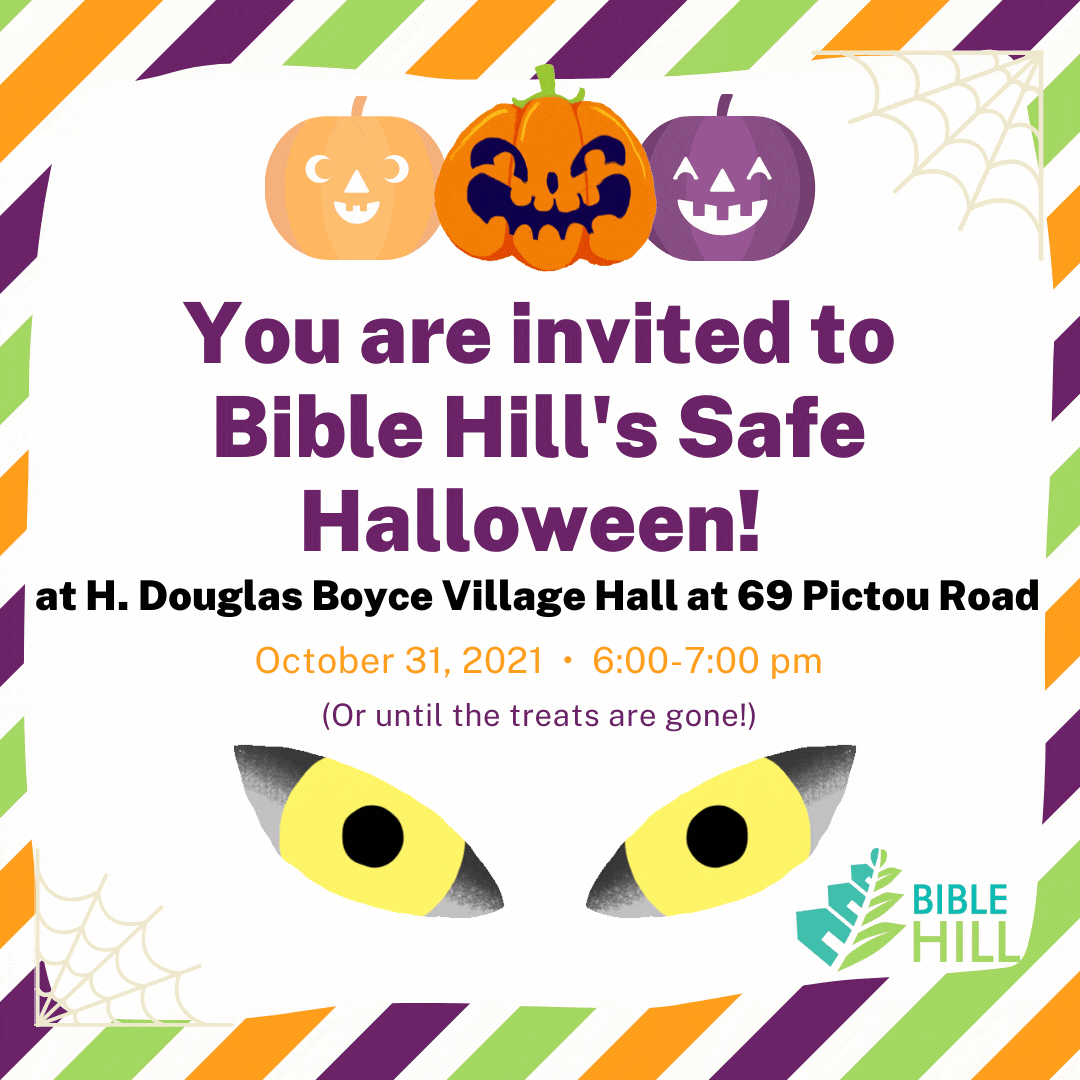 With the support of local businesses, Village of Bible Hill will be hosting our 28th annual Safe Halloween event. Bible Hill children (Grade 4 and under) and their families are invited to "Trick or Treat" at H. Douglas Boyce Village Hall.
The Bible Hill Safe Halloween event will take place at H. Douglas Boyce Village Hall, 69 Pictou Road, on Sunday, October 31, from 6:00 pm to 7:00 pm, or until the treats are gone.
Proof of Full Vaccination is required for all persons 12 years of age and older.
Requirements for wearing masks in indoor public places need to be followed. Please wear a non-medical mask regardless of whether you wear a Halloween costume mask.
Let's have a Skele-ton of Fun!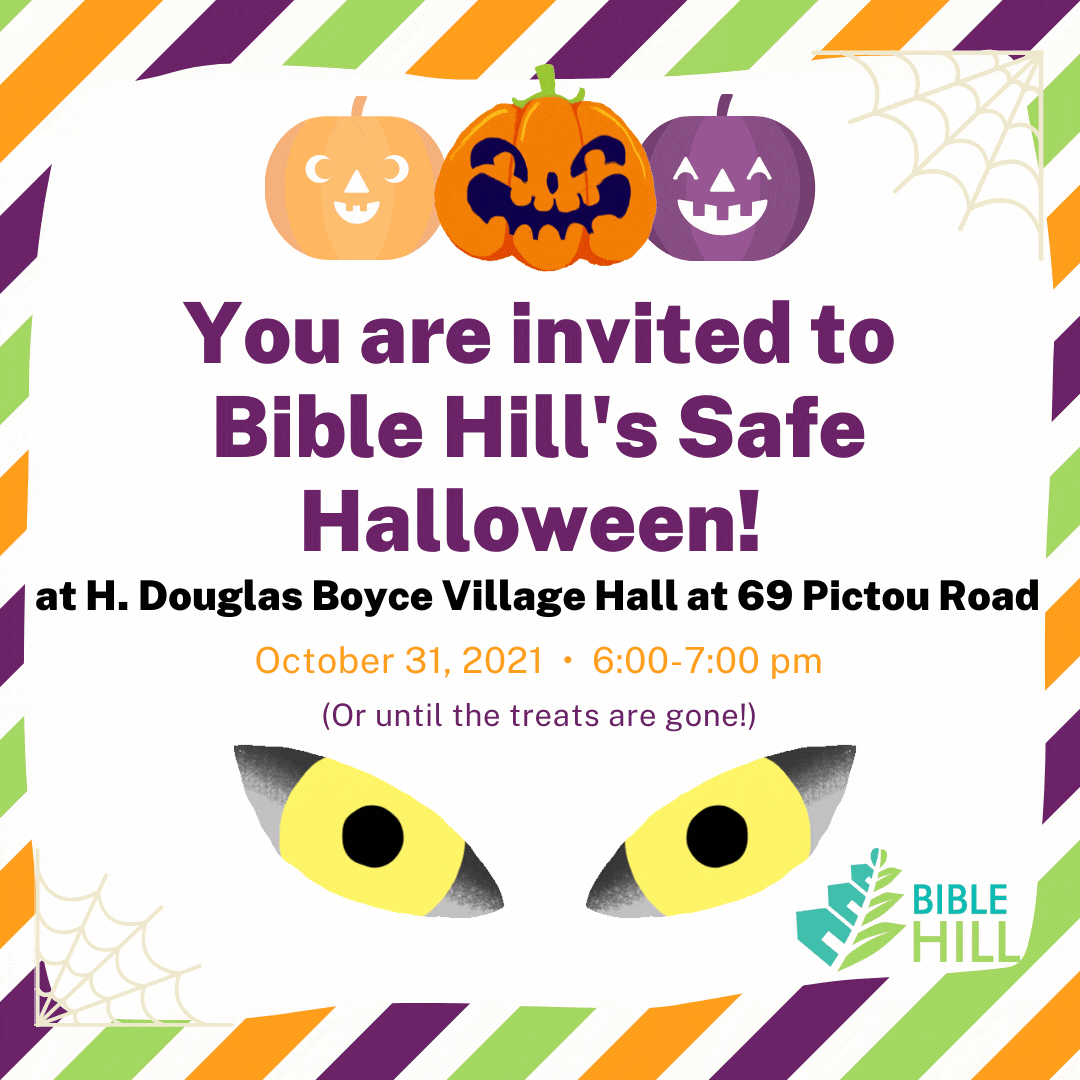 Subcategories