News
Meadowland Trail Closure
Details

Published: Friday, 14 August 2020
Meadowland Trail will be closed for work starting August 24th.
Thank you for your patience.
Consumer Fireworks Restriction (Advisory)
Details

Published: Wednesday, 12 August 2020
The use of consumer fireworks is not permitted when and where there is a Burn Ban issued by the Department of Lands and Forestry.
A failure to comply with this fire safety advisory or with a reasonable request of a fire official may be considered an offence under the
Fire Safety Act and result in a Summary Offence Ticket being issued.

For more information, please call 1-800-559-3473 or visit http://novascotia.ca/dma/firesafety/
Senior Fitness Classes
Details

Published: Tuesday, 11 August 2020
Monday and Wednesday: classes at 10:30 AM and 11:30 AM
Friday classes at 11:15 AM
$2 per class.
Call 893-8083 or email This email address is being protected from spambots. You need JavaScript enabled to view it. to register.
Hall Available for Small Events
Details

Published: Thursday, 06 August 2020
Looking for a space to book your next meeting, class or celebration? Bible Hill Village Hall offers 2,080 sq ft of accessible floor space including a raised stage plus washrooms, lobby, audio-visual equipment and available bar operated by Bible Hill Fire Brigade.
The main area is approximately 40 ft by 52 ft and available for capacity up to 50 people with Covid-19 restrictions in place. Use of tables and chairs are included with rental.
The regular rental rate is $25 per hour (minimum 3), and many non-profit/community groups are eligible for a subsidized rate.
pdf The Rental Agreement can be found here. (7.85 MB)
Call 893-8083 for more information.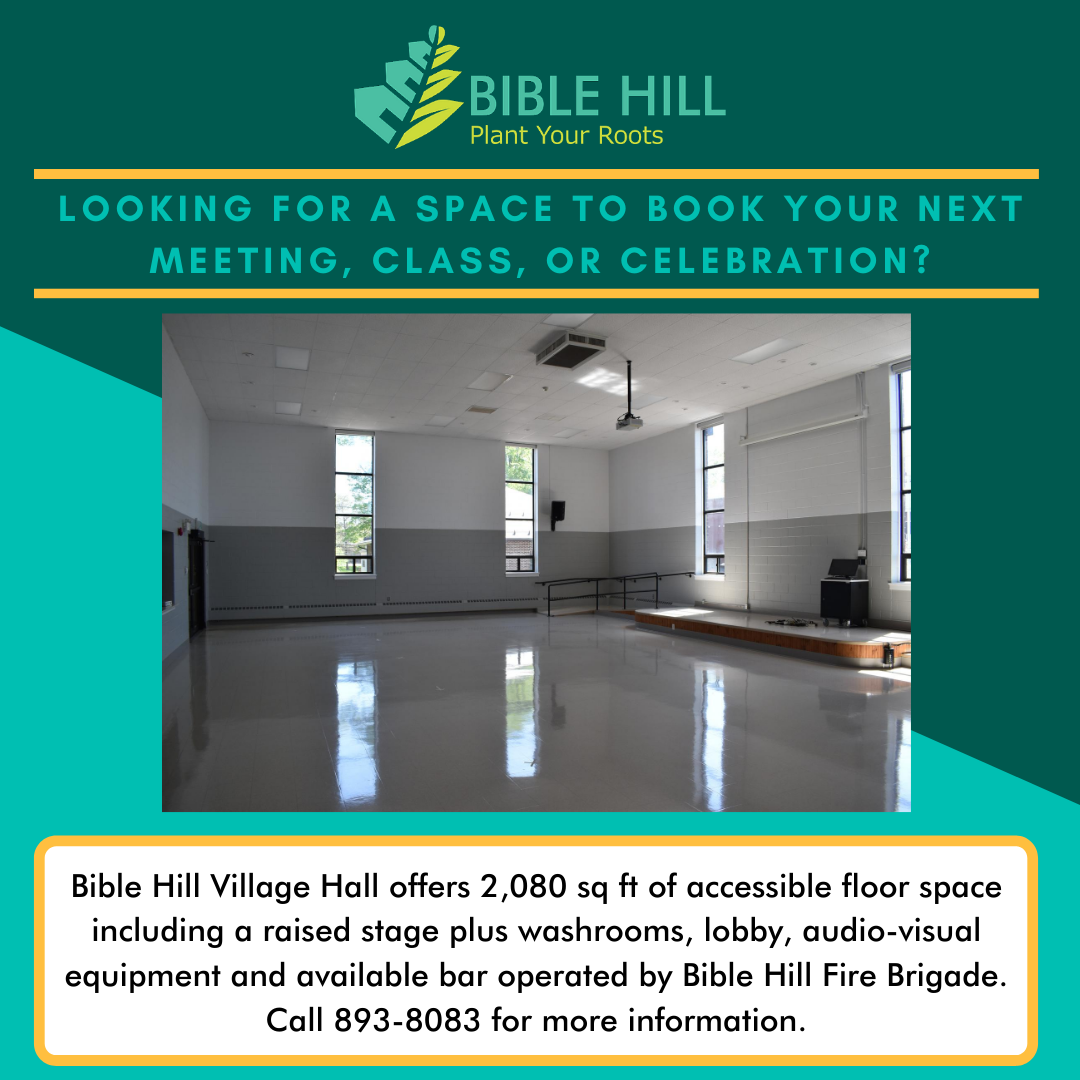 Village of Bible Hill Park Days!
Details

Published: Thursday, 30 July 2020
Village of Bible Hill is hosting Park Days at Bible Hill Recreation Park every Monday, Wednesday, and Friday from 12:00pm to 4:30pm, August 10th to September 4th. To register your child(ren) please call 902-893-8083 or email This email address is being protected from spambots. You need JavaScript enabled to view it.
Please do not send children if they have any COVID-19, cold or flu-like symptoms.
Pictou Road Sidewalk Construction
Details

Published: Wednesday, 08 July 2020
Village of Bible Hill would like to advise of upcoming sidewalk construction on Pictou Road, between Main Street and Blanchard Ave. Construction is scheduled to commence Monday, July 20th with an anticipated completion in late August. Traffic disruptions are expected. The Village would like to thank you in advance for your patience during the construction of this project.
To view an expected timeline of work being done, please click here.
Subcategories