News
Yoga With Celeste
Details

Published: Friday, 07 August 2020
Celeste is hosting a six week yoga session in Clover Drive Park.
Dates of sessions: Friday, August 07,14, 21 and September 04, 11, 18
$50/ 6 week session.
Call Celeste at 902-814-8000 to register,
Hall Available for Small Events
Details

Published: Thursday, 06 August 2020
Looking for a space to book your next meeting, class or celebration? Bible Hill Village Hall offers 2,080 sq ft of accessible floor space including a raised stage plus washrooms, lobby, audio-visual equipment and available bar operated by Bible Hill Fire Brigade.
The main area is approximately 40 ft by 52 ft and available for capacity up to 50 people with Covid-19 restrictions in place. Use of tables and chairs are included with rental.
The regular rental rate is $25 per hour (minimum 3), and many non-profit/community groups are eligible for a subsidized rate.
The Rental Agreement can be found here.
Call 893-8083 for more information.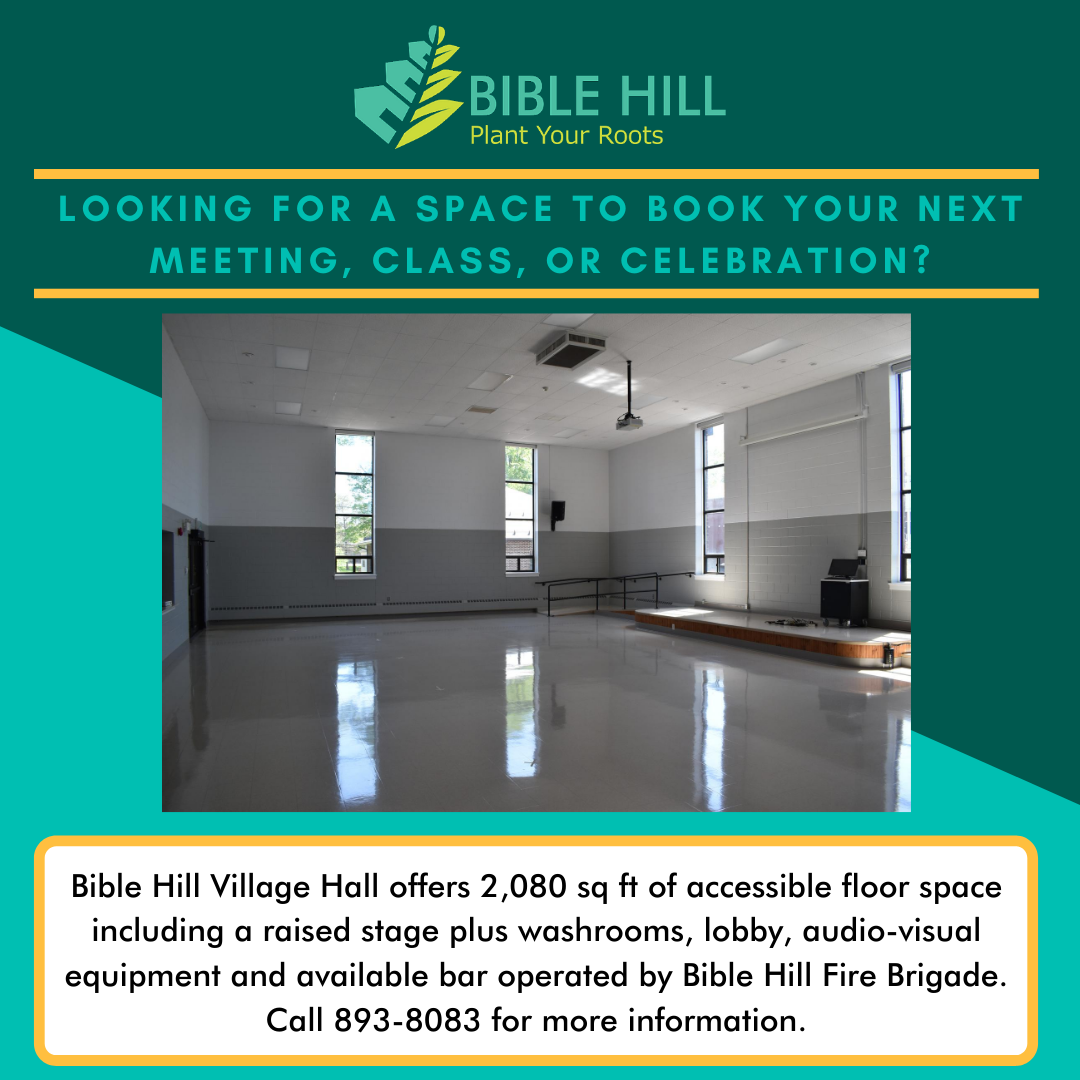 Accessibility Advisory Committee
Details

Published: Friday, 31 July 2020
July 31, 2020:
Village of Bible Hill wants your input around public accessibility.
Complete our Public Accessibility Survey here.
Paper copies are available in Village Office.
April 1, 2020:
Village of Bible Hill welcomes expressions of interest from individuals who self-identify as having a disability or are an agent of an organization that represents persons with disabilities, to serve on its Accessibility Advisory Committee in the following volunteer positions:
• (1) member for a two year term, ending June 2022; and
• (2) members for three year terms, ending June 2023.
The purpose of the Accessibility Advisory Committee is to provide advice to the Village Commission on identifying, preventing and eliminating barriers to persons with disabilities in Village programs, services, initiatives, and facilities; and play a pivotal role in helping the Village become an accessible community and meet its obligations under the Nova Scotia Accessibility Act.
The Committee meets the third Wednesday of June and November, at 2PM.
Expressions of interest shall be submitted electronically on the prescribed nomination form. The nomination form is available here. Alternative formats are available upon request to 902.893.8083 or This email address is being protected from spambots. You need JavaScript enabled to view it..
The Accessibility Advisory Committee Policy is available here.

Village of Bible Hill Park Days!
Details

Published: Thursday, 30 July 2020
Village of Bible Hill is hosting Park Days at Bible Hill Recreation Park every Monday, Wednesday, and Friday from 12:00pm to 4:30pm, August 10th to September 4th. To register your child(ren) please call 902-893-8083 or email This email address is being protected from spambots. You need JavaScript enabled to view it.
Please do not send children if they have any COVID-19, cold or flu-like symptoms.
Pictou Road Sidewalk Construction
Details

Published: Wednesday, 08 July 2020
Village of Bible Hill would like to advise of upcoming sidewalk construction on Pictou Road, between Main Street and Blanchard Ave. Construction is scheduled to commence Monday, July 20th with an anticipated completion in late August. Traffic disruptions are expected. The Village would like to thank you in advance for your patience during the construction of this project.
To view an expected timeline of work being done, please click here.
COVID-19 Pandemic Safety Plan
Details

Published: Thursday, 02 July 2020
Village of Bible Hill has compiled a pandemic safety plan, outlining the procedures in place at the Village to ensure the safety of our staff and the public and to help limit the spread of COVID-19.
To view the Pandemic Safety Plan, click here.
Coronaviruses are a large family of viruses. Some cause illness in people and others cause illness in animals. Human coronaviruses are common and are typically associated with mild illnesses, similar to the common cold.
As a result of the spread of COVID-19, a Provincial state of emergency has been declared by the Province of Nova Scotia, and a public health order has been issued under the Health Protection Act, along with various directives under Emergency Management Act, among others. To view these documents, please visit the following website: https://novascotia.ca/coronavirus/alerts-notices/ .
Everyone is expected to follow the guidelines issued by the Provincial Government found at the following websites:
https://novascotia.ca/coronavirus/staying-healthy
https://novascotia.ca/coronavirus/when-to-seek-help/
Subcategories